New Hospital Foundation Patron
October 01, 2021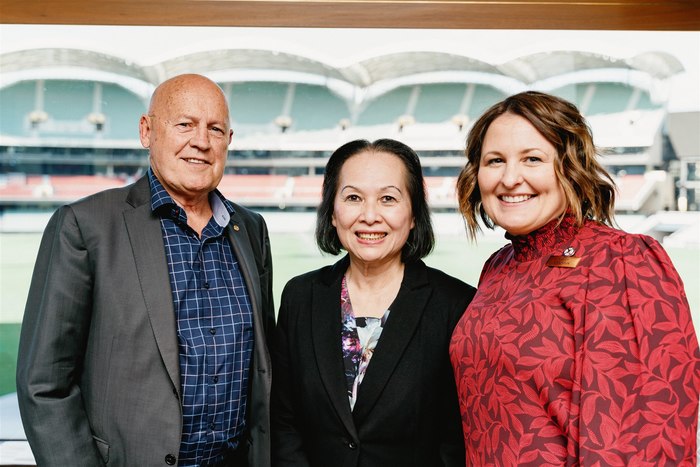 We are delighted to welcome Mrs Lan Le as the St Andrew's Hospital Foundation Patron from the 1st of October, 2021. After a tremendous seven years of service alongside her husband The Honorable Hieu Van Le, AC in his role of Governor of South Australia, we are honoured to have Mrs Le accept this position.
Lan, born in Da Nang, Vietnam, arrived in Australia with her husband Hieu Van Le in 1977. She attended the South Australian Institute of Technology and, in 1985, graduated with a Bachelor of Social Work. For 30 years, she worked as a social worker and rehabilitation consultant in various Commonwealth Government Departments.
Within these positions, Lan gained extensive experience and knowledge in both client service delivery and team management. She also received several Commonwealth Rehabilitation Service (CRS) Australia National awards.
In 1997, she was the recipient of the Australia Day Achievement Award for her outstanding and consistent contribution to CRS Australia client services. In 2000, Lan was presented with a CRS Australia National Award for Excellence for her contribution to quality service delivery and team leadership.
Most recently, as the Governor's wife, Lan developed and maintained effective relationships with various organisations, as well as providing patronage support to more than 35 organisations, supporting their missions, programs and services.
Lan was recently awarded Life Membership of Palliative Care SA and Cystic Fibrosis SA.She is also an Honorary Member of the Rose Society of SA and ambassador for both Grandparents for Grandchildren and The Memorial Hospital's Centenary Celebration.
Lan says, 'I am honoured to serve as the new Patron of the St Andrew's Hospital Foundation as it embarks on its third decade of service to the hospital. 'I am passionate about the foundation's work, providing state-of-the-art equipment and funding training and development opportunities for staff. 'I look forward to bringing my experience as a social worker, rehabilitation consultant and spouse of the Governor of South Australia to this role, and to getting to know everyone in the St Andrew's community.'