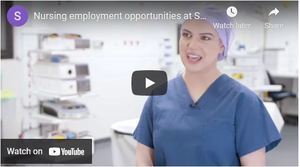 St Andrew's Hospital offers Graduate Registered Nurses (RNs) the opportunity to work in a large private hospital where the breadth of services and case-mix provide a rich learning environment.
Becoming a graduate is an exciting and often daunting time. A Graduate Nurse Program forms the basis for a successful career in Healthcare as graduates make the transition from student to clinician. We know this is a stressful and often emotional time during which graduates will either re-affirm or change their career goal.
Our Graduate Nurse Program is an important part of our workforce strategy and assists us to ensure we employ the right nurses to fit our culture, help us provide the very best care and service and one day, transition into Nursing Leadership.
The Learning and Development team across all clinical areas collaborate to provide the graduate with experiences and training that will see them emerge as an independent practitioner.
For many, this is a time during which invaluable lessons are learned, inspiring mentors are identified, and lifelong friendships are developed.
This program is not affiliated with SA Health. A separate application is required for graduates wanting to be considered for a position at St Andrew's.
Why consider St Andrew's for your TPPP?
Safe, supportive environment
Full-time Graduate Coordinator
Extensive orientation and study day program
Free clinical education program
Uniform allowance
Preceptor program
Competitive Enterprise Agreement
A central location from any Adelaide suburb
Salary packaging arrangements
Onsite undercover car park
Subsidised meals
Staff recognition events
On site Gym
Graduation Ceremony with family and friends
What our patients have said about our Graduate Nurses
I would HIGHLY like to thank the graduate nurse who showed a great level of professionalism to ensure my overall care whilst I was a patient at St Andrew's. NOTHING was too much trouble for her, she would always greet me with a friendly smile and would go above & beyond to make sure I was comfortable and had everything I needed to make my time a pleasurable one. I can see her going far within her nursing career and wish her all the best for the future. (2020)
I recently spent a night in the Critical Care Unit – I would like to tell you how impressed I was with the graduate nurse who cared for me – she was kind, efficient, most reassuring & diligent. Let her know how much I appreciated her professionalism and cheery manner (2020)
2022 Graduate Nurse Program
Applications closed 0800 30th July 2021 for the 2022 TPPP.
Supporting documents continue to be received until 0800 Monday 2nd August, from those applicants who applied PRIOR to the closing date/time.
Documents deposited by people (via a shared link from a friend) who did not submit their actual application via our online recruitment platform will not be considered.
​Transition to Professional Practice
The program is 52 weeks
Commences with a comprehensive hospital and area orientation
Learning is enhanced through study days
Accrued annual leave can be taken throughout the year
Contracted hours are approximately 60 hours (0.8) per fortnight with the ability to work extra hours up to full-time with all the benefits.
Continued employment post GNP year is considered.
Aims of the Program
To provide the graduate with:
opportunities to consolidate and integrate nursing knowledge into practice
assistance during the transition from Novice to Advanced Beginner
an environment that promotes lifelong professional development
supportive preceptors and clinical practitioners
competency based performance review systems
an environment committed to adult learning principles
clinical experience appropriate to the level of competency
an understanding of the quality improvement process and influencing change
To successfully gain a place at St Andrew's, graduates will need to demonstrate:
Exemplary customer service to everyone they come in contact with
The ability to work as a team and cooperate fully with all staff members
An endeavour to improve both themselves and the workplace
Application of an excellent knowledge base in the clinical setting
Safe practice at all times
Requirements of the selection criteria
Clinical Experience:
Graduates can undertake two 6 month clinical rotations selected from the following clinical areas:
General Surgery, Urology and Colorectal Surgery
Oncology, Plastics, Gynaecology and Breast Surgery
Orthopaedics, Neurosurgery, Spinal, Vascular, ENT, Gynaecology
Intensive Care & High Dependency
Cardiac Acute and Step down
OR
Graduates can undertake a full year peri-operative program in ONE of the following areas:
Theatre scrub/scout
Recovery & Anaesthetics
Day Procedure Suite/DOSA - rotating through admission area, stage 2 recovery, scopes
Enquiries
Kerry Holm Graduate Coordinator kerry.holm@stand.org.au
Alison Sarles alison.sarles@stand.org.au