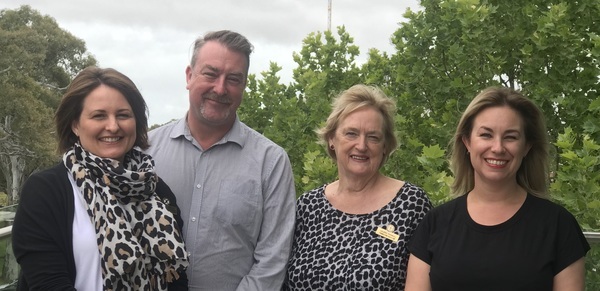 Amy Bredon (right) – Foundation Director
Amy has been the Director of the foundation since 2015.
In addition to her role as Foundation Director, she is also the Chair of the hospital's Work Health Safety Committee. She is a Director of the Pembroke School Foundation and a Governing Councellor at Linden Park Primary School.
Amy's background is in the not for profit sector, with a particular interest in health care. Having previously worked at the Julian Burton Burns Trust and the Royal Adelaide Hospital Research Fund, her experience includes working in the hospital setting and in a NFP start-up.
Valerie Turnbull (middle right) – Volunteer Coordinator
After retiring from the work force in 2005, and travelling Australia, Valerie was left wondering what she would do! Shortly after, she began as a volunteer in the coffee shop at St Andrew's as a way of giving back to the community.
In 2010, she began volunteering in the foundation office and was subsequently offered a paid position in addition to her continued volunteering.
Valerie's employment background has been in Administration Management and formerly managed a large sporting complex in Adelaide for 10 years. Valerie also held the positon of Assistant Chief Commissioner of Scouts Australia for 6 years supporting all Scout Leaders and Scout Group Committees in South Australia.
John Coates (middle left) – Coffee Shop Manager
Born in the United Kingdom, John began his career as a chef working in and around London. After migrating to Australia, John spent 10 years in Sydney at various fine dining restaurants.
John moved to Adelaide in 2004 to continue his career path and has previously worked at the Adelaide Club, Botanic Gardens Restaurant and Southern Cross Care before joining St Andrew's Hospital.
Hayley Pryzibilla (left) - Administration and Events Coordinator
Hayley joined the foundation team in August 2019. Prior to starting at St Andrew's, and after moving back to Adelaide from the Barossa Valley in 2014 and the birth of her second child, Hayley was employed in a casual administration role in the health sector.
Hayley's previous roles in the Barossa Valley included administration and marketing. She brings with her a wealth of knowledge from the Food and Wine industry, including experience volunteering on committees within the local community.
In her spare time Hayley likes spending time with her family and friends, gardening, and looking after the odd Fauna rescue.