Help us raise $70,000 to refurbish the Paediatric Ward!
For children, hospital can be a scary place! Our littlest patients are so precious and their journey at St Andrew's is important to us.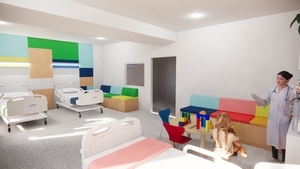 To commemorate the 20th Anniversary of the St Andrew's Hospital Foundation, we need your help to completely refurbish the Paediatric Ward.
The refurbishment will include day beds that convert into comfortable sleeping spaces for carers, a bright and cheerful colour pallet and a craft and relaxation area for children.
As a not-for-profit, the hospital and foundation rely on the generosity of supporters to help fund projects. Keeping St Andrew's at the forefront of exceptional patient care is essential to maintaining our enviable reputation as a premier healthcare facility in South Australia.
To read more about our 2020 Annual Appeal, including artists impressions, please download the information brochure here.
To donate today, please click here. Together, we can make a difference for the children that visit St Andrew's.