Grateful Patient Appeal - target of $100,000
This year we want to strengthen our healthcare services by showing our exceptional, dedicated and highly skilled nurses how grateful the community is for their hard work. Donations will help to support over 250 educational programs, wellbeing initiatives, training, and minor equipment needs of our nursing teams. Our nurses work every single day to save lives, ease anxieties, comfort families, learn and innovate, and to give hope in some of life's hardest moments. Their passion, teamwork, and commitment is the defining experience of St Andrew's Hospital for our patients and community.
Clinical Scholarships - $8,000 per scholarship
The success of St Andrew's is built on the skill and passion of its staff. There continues to be significant changes in how health services are delivered, where they are delivered and to whom. This requires innovation, better integrated multidisciplinary teams and a culture based on team work. Work environments that foster strong nursing practice include collaborative teamwork, autonomous decision making, professional development, adequate staffing and skill mix which are most closely aligned with patient care and safety. St Andrew's Hospital seeks to foster a culture of continuous organisational learning and development through targeted internal and external training and development programs. St Andrew's Hospital Foundation has created a scholarship program that continues an individual's professional development outside their day-to-day work.A minimum of three scholarships are annually provided. Each post graduate course consists of between six to eight modules.
Breast Cancer Care Luncheon 2023
The Breast Care Luncheon has for over 25 years created the opportunity to bring our patients together, with their loved ones, so they can reflect, learn, laugh and share while being inspired by each other's journeys. This much-loved event is hosted every year during Breast Cancer Awarenes Month. The event returned in October 2022 after a two-year hiatus due to COVID-19, and we welcomed over 170 breast cancer patients and their guests to a wonderful luncheon hosted by Kate Collns.
Planning for 2023 is already underway so please do contact us to confirm your sponsorship of this event.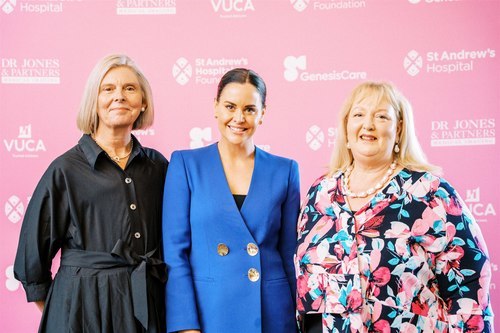 We would love to speak with you about our current projects, or explore other ways you can support St Andrew's Hospital. Please contact the Foundation office on 8408 2005 or email Foundation@stand.org.au