The Pink & Blue returns for 2023
February 11, 2023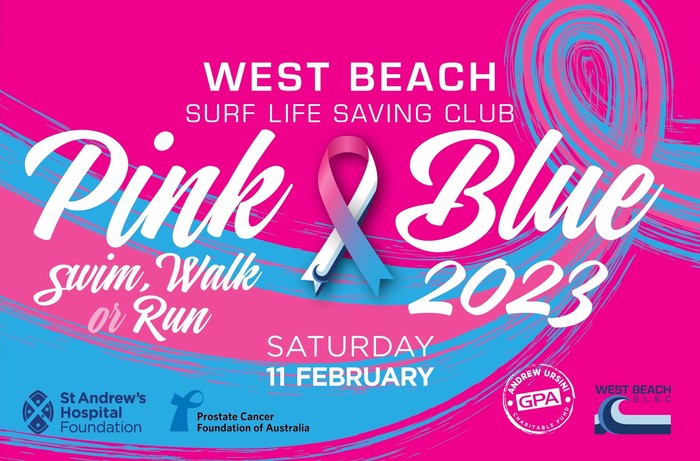 Since 2013, an amazing community of volunteers and corporate partners at West Beach SLSC have hosted the Pink & Blue Swim.
100% of ticket entries for this award winning event are donated equally between St Andrew's Hospital (Breast Care) and the Prostate Cancer Foundation (Research). To date they have raised over $400,000 which is a fantastic result.
This event returns on Saturday 11 February, and this year they have added a 6km run.
The generous partnership between the Pink & Blue Committee and St Andrew's Hospital has made possible several projects that positively support the experience of breast cancer patients, and support our exceptional breast care nurses to provide the best care.
This significant list of projects includes a Gamma Probe for use during a Sentinel Node Biopsy, the refurbishment of the Breast Cancer Treatment Room, including equipment on the 3rd Floor of hospital, and most recently the refurbishment of a Patient/Visitor Lounge and Kitchen. These projects would not have been possible without their support, and they have contributed to the positive experience of cancer patients under our care.
Breast Cancer is the second most commonly diagnosed cancer in Australia. At St Andrew's, We know that excellent Breast Nurses with extensive knowledge and experience in the oncology field make a huge difference in a patient's cancer journey. This year, our special project with the Pink & Blue team is to support a Breast Care Nurse at St Andrew's which will have a transformative impact on the care of our patients.
The St Andrew's Hospital Foundation team will be onsite on the day to speak with the participants (and hand out lollies). This year is also the return of their comedy night which is always really good fun.
Thank you so much to everyone who supports this great event.
We hope to see you there on the day.
For more information, and to register or donate, please see Pink & Blue Event — West Beach Surf Life Saving Club (westbeachslsc.com.au)