Health care associated infections (HCAI) are a major and growing issue in the quality and safety of health care, in both the hospital and community settings.
HCAIs have been nominated as a priority area by the Australian Commission on Safety and Quality in Health Care (ACSQHC). Improved healthcare worker hand hygiene (HH) is the highest priority area to reduce the risk of healthcare-associated infections. Reliable indicators of HH compliance are essential, and mechanisms for the wider implementation and monitoring are required.
The purpose of the National Hand Hygiene Initiative (NHHI) is to develop a national approach to improving HH and monitor its effectiveness.
Hand Hygiene is a general term referring to any action of hand cleansing and includes:
Washing hands with the use of a water and soap or a soap solution, either non-antimicrobial or antimicrobial.
OR
Applying a waterless antimicrobial hand rub to the surface of the hands (e.g. alcohol-based hand rub).
When performed correctly, hand hygiene results in a reduction of microorganisms on hands.
The 'Five Moments for Hand Hygiene' have been identified as the critical times when hand hygiene should be performed.
St Andrew's Hospital introduced the Hand Hygiene Programme in 2010. Three observational audits are undertaken per year of the 'Five Moments for Hand Hygiene.' All clinical areas within the hospital are included in the observational audits. There are 12 clinical areas with (at least) 150 moments per area audited per audit cycle (total 1750 moments), three times per year = 5250 moments for hand hygiene audited annually.
In 2019, St Andrew's Hospital overall compliance rate was 86% which is above the national benchmark rate of 85% compared with the National (overall) rate of 85.6% and the Private national rate of 86.8% (includes peer private hospitals with similar numbers of inpatient beds).
Hand Hygiene Benchmark Graph (Period 2 2019 to Period 1 2020)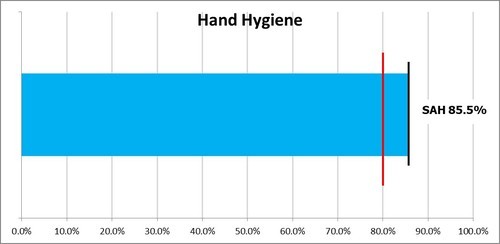 Compliance Rate: Audit 2 2020

.