Breast Care Luncheon 2022
October 07, 2022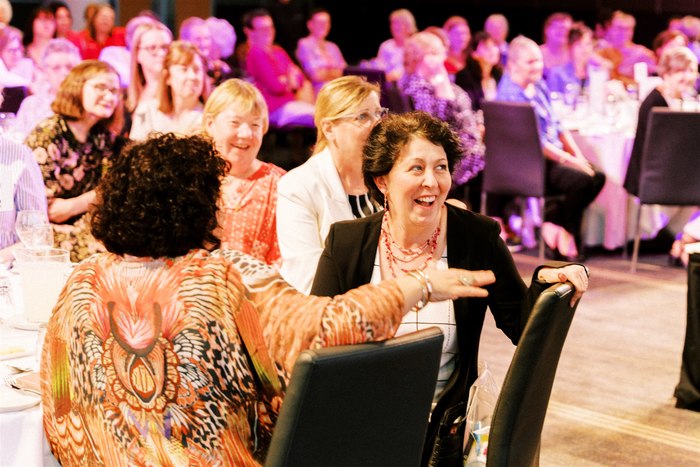 Yesterday over 170 breast cancer patients, their families, friends, nurses and special support services gathered at Adelaide Oval for our much loved Breast Care Luncheon.
After a two-year hiatus due to COVID-19, it was an absolute joy to see the return of this event during Breast Cancer Awareness Month.
The Breast Care Luncheon has for over 25 years created the opportunity to bring our patients together, with their loved ones, so they can reflect, learn, laugh and share while being inspired by each other's journeys.
Kate Collins, Nine News Presenter, graciously and seamlessly acted as our MC for the morning, and Proud Kaurna Woman Jess Davies warmly Welcomed us to her Country.
Special guest speaker Dr Charlotte Tottman, a clinical psychologist on cancer-related distress, shared a wealth of personal and professional information - as well as link to her 10-part podcast series, Upfront About Breast Cancer - What You Don't Know Until You Do.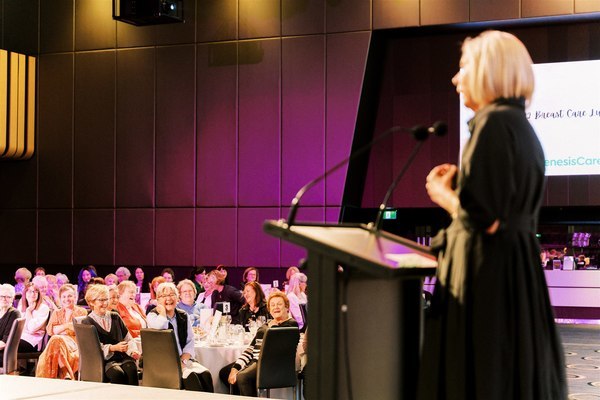 A number of specially invited exhibitors offered both free, and for purchase items or services for guests to look at, book into or purchase.
The highlight of the day was the lingerie fashion parade where six amazing women gathered the courage to display custom-made lingerie and swimwear, enabling women post-mastectomy to celebrate themselves and not the disease.
This event would not have been possible without our Event Sponsors:
Genesis Care
Dr Jones & Partners
VUCA

Many thanks also to our event suppliers and prize donors:
Adelaide Oval & Oval Hotel
Endota Spa
North Adelaide Flowers
Part Time Lover
Quinzi's Confectionery
RoofClimb Adelaide Oval
Tiff Manuell
Village Gate
Whistle & Flute
And to the exhibitors:
Simply Olive & Bea
Dragons Abreast Adelaide
Cancer Care Centre
YMCA Encore
Lymphodema Association SA
Lift Cancer
Amoena
McGrath Breast Care
SA Mobile Breast Care
Pink Lotus Australia

Very special thanks to the St Andrews's Hospital Foundation for working with our Breast Care team to deliver this event on behalf of the Hospital.

About Breast Cancer Care at St Andrew's
Breast cancer is a defining moment in anyone's life; from that first call or text message following their annual mammogram to the diagnosis and subsequent treatment. The Breast Care Nurse (BCN) Team at St Andrew's Hospital ensure that the highest standards of care are the hallmark of our Breast Clinic through their exceptional skill, and their patient-centred approach. Our cancer service is the most comprehensive private cancer facility in SA, offering patients of the hospital as well as patients of our affiliated surgeons the medical expertise, innovation and care expected from a centre of excellence. This significant resource, our excellent partnerships, and our exceptional Breast Care Nurses make the St Andrew's Breast Clinic staff stand out from our peers.