Busiest robot in the Southern Hemisphere
November 09, 2022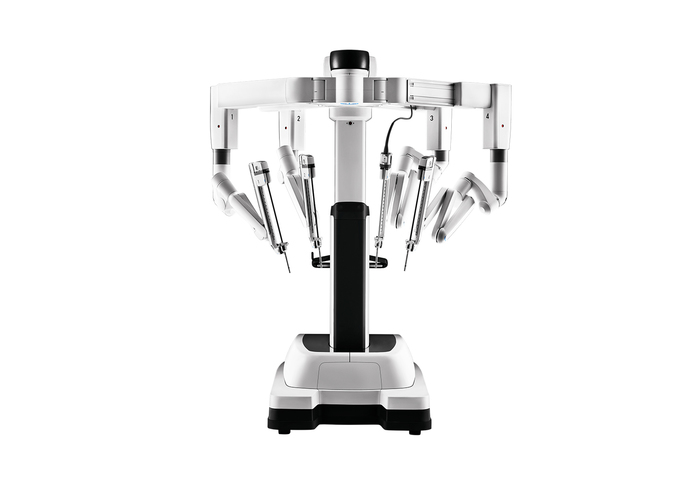 St Andrew's Hospital in Adelaide is celebrating a technological milestone, having completed more than 5,500 robotic surgical procedures since 2013.
Hospital CEO Stephen Walker said the hospital's da Vinci Xi surgical robot was the busiest in the country.
"I understand that we have the busiest robot in the Southern Hemisphere," he said.
"We undertake approximately 740 procedures each year, mainly in urology but also in ear, nose and throat surgery, general surgery, gynaecological surgery and colorectal surgery.
"We also undertake the majority of the public robotic work including some paediatric patients from the Women's and Children's hospital here in Adelaide.
"We have a highly skilled and experienced robotic team here, including surgeons, nursing staff, robotic surgical assistants, and anaesthetists; their level of expertise is really outstanding.
"Together with Device Technologies, we're delighted to be celebrating more than 5,000 robotic procedures."
Mr Walker said being at the cutting edge of technology was vital for helping patients.
"We are the largest independent private hospital in the country – we're not part of a big group, we're born and bred here in South Australia and we're very proud of that.
"We have a lovely culture here, and we're thrilled to be able to provide technology which really benefits our patients," he said.
"We're a comprehensive cancer hospital, providing surgery for prostate, breast and bowel cancer complimented by all the services here for diagnosis, and non-surgical treatment including radiotherapy and chemotherapy.
"We also have a large chemotherapy clinical trials unit on site as well.
"It's fabulous to know that we're punching above our weight when it comes to patient care.
"St Andrew's also pride themselves on helping surgeons learn to use the da Vinci surgical robot with the addition of a training console as well, so while one surgeon is operating the console on a patient, we have a second device there for education and training.
"We've been doing robotic procedures for a long time now, and we're very proud of the training we offer for clinicians."
Device Technologies CEO, Mick Trevaskis, congratulated St Andrew's Hospital on the "incredible milestone".
"I'm proud of the longstanding relationship between St Andrew's Hospital and Device Technologies, and the role we play in improving patients' lives," he said.
"Da Vinci surgery continues to be at the forefront of robotic and minimally invasive surgery, and we look forward to continuing to support healthcare facilities like St Andrew's to offer technologically advanced solutions to benefit surgeons, care teams and their patients."
We would like to gratefully acknowlege Mr Gordon Pickard AM for his very generous and ongoing support of the da Vinci Surgical Robot program at St Andrew's Hospital.
Original article posted by the Australian Private Hospitals Association.
Read more about the da Vinci at St Andrews Hospital.
About Device Technologies
Since 1992, Device Technologies has been dedicated to improving patients lives through leading edge technology and services. Successfully supplying hospitals and healthcare professionals with the finest medical solutions for their patients, Device Technologies continues to grow, with over 200 trusted brands and 1000 highly skilled staff across Australia, New Zealand and Asia. Leading the way in the medical technology field, Device Technologies provides the highest calibre of medical supplies – with innovation and client care at the core of its values. All products distributed by Device Technologies are compliant with quality regulatory requirements, with in-servicing and ongoing support provided as part of the trusted partnership between Device Technologies staff and healthcare professionals.
About Intuitive Surgical, Inc.
Intuitive (Nasdaq: ISRG), headquartered in Sunnyvale, Calif., is a global technology leader in minimally invasive care and a pioneer of robotic-assisted surgery. At Intuitive, our mission statement is we believe that minimally invasive care is life-enhancing care. Through ingenuity and intelligent technology, we expand the potential of physicians to heal without constraints. Intuitive brings more than two decades of leadership in robotic-assisted surgical technology and solutions to its offerings, and develops, manufactures and markets the da Vinci surgical system and the Ion endoluminal system.
About the da Vinci surgical system
There are several models of the da Vinci surgical system. The da Vinci surgical systems are designed to help surgeons perform minimally invasive surgery. Da Vinci systems offer surgeons high-definition 3D vision, a magnified view, and robotic and computer assistance. They use specialized instrumentation, including a miniaturized surgical camera and wristed instruments (i.e., scissors, scalpels and forceps) that are designed to help with precise dissection and reconstruction deep inside the body.
Image courtesy of Intuitive.